Nationally Recognized Host of Marketplace to Ride BikeMaine
PORTLAND, Maine–BikeMaine is pleased to announce that David Brancaccio, the host and senior editor of American Public Media's Marketplace Morning Report, and Mark Vogelzang, president and CEO of Maine Public Broadcasting Network (MPBN), will join more than 300 cyclists as they tour the state by bicycle during the upcoming Sept. BikeMaine ride.
In addition to riding with the cyclists on the BikeMaine route, Brancaccio and Vogelzang will join BikeMaine riders, community members, and local officials for a Town Hall Forum in Bethel, on Wed., Sept. 16. The forum will focus on economic development, bicycling, tourism, the environment, and more.
"The Bethel community and the chamber of commerce are excited to be part of the BikeMaine itinerary this fall, especially as the layover town," said Executive Director of the Bethel Chamber of Commerce, Robin Zinchuk. "We are planning to roll the red carpet out for the riders, staff, and volunteers and have many great activities planned for everyone during their stay here. We are especially excited that David Brancaccio and Mark Vogelzang will be joining us."
Considered the most popular business program in the United States, Marketplace discusses the focuses on the future of the economy, financial and labor markets, technology, the environment, and social enterprises. David Brancaccio is an award-winning reporter, anchor, speaker, and storyteller. His approach to investigative reporting and in-depth interviewing has earned the highest honors in broadcast journalism, including the Peabody, the Columbia-duPont, the Emmy, and the Walter Cronkite awards.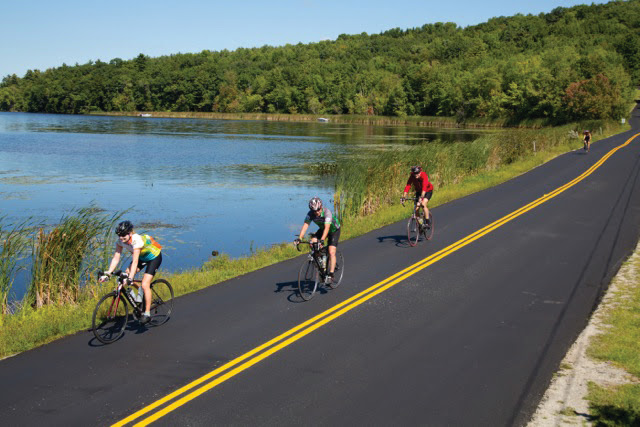 2014 BikeMaine riders.
"We are really excited for David to join the BikeMaine ride this year," said MPBN President and CEO Mark Vogelzang. "David grew up in Waterville, Maine, and has been, and continues to be, such an important part of public broadcasting, and a huge favorite with so many. It's an outstanding opportunity for riders to meet and hear from one of the best journalists around!"
MPBN, Maine's premier independent media resource, is committed to connecting the people of Maine to other communities and to the world through the open exchange of information, ideas, and cultural content. BikeMaine is proud to have the support of MPBN as a 2015 media partner.
The Third Annual BikeMaine ride will take place from Sept. 12 through 19, 2015, and is organized by the Bicycle Coalition of Maine. Each year, the week-long adventure highlights different parts of Maine, giving riders the opportunity to experience the people, places, culture and food of the state. Riders will enjoy rest stops, daily meals and overnight camping in host communities along the route. 2015 overnight host communities include Kittery, Old Orchard Beach, Bridgton, Bethel, Sweden and Kennebunk.
The route features varying terrain from the coast to the mountains with daily distances averaging 55 miles and additional 10- to 15-mile loop options. Participation is limited to 350 riders to ensure an intimate and community-focused experience. Meals are prepared with high-quality local and seasonal ingredients, and entertainment, including Maine music, comedy, and dance, is provided each evening.
BikeMaine is proud to have the support of founding sponsors L.L.Bean and Anthem Blue Cross and Blue Shield in Maine, in addition to its many other valued sponsors and partners.
Fewer than 40 spots remain for this year's BikeMaine ride. Register today at ride.bikemaine.org.
###
Editor's Note: Click on the image above or the link below to access a downloadable version.
About BikeMaine:
Founded in 2012, BikeMaine is a fully-supported, seven-day cycling tour organized by the Bicycle Coalition of Maine. Limited to just 350 cyclists, the tour takes a different course every year. Routes traverse uncrowded back roads, looping through small towns and scenic areas along the coast and inland. The terrain is moderately challenging with daily rides averaging 55 miles. The event includes meals made with locally sourced ingredients, optional afternoon activities, and nightly entertainment. The event was founded to promote the state as a bicycling destination and to use cycling as an economic development tool for local communities. In 2014, BikeMaine generated an estimated $395,000 in direct economic impact. Proceeds from the tour go to support bicycle advocacy in Maine. To learn more, visit
ride.bikemaine.org
.
About Bicycle Coalition of Maine:
The Bicycle Coalition of Maine is the statewide voice of cyclists and pedestrians. Since 1992, the Bicycle Coalition of Maine has led the effort to make Maine better for bicycling and walking by protecting the rights and safety of cyclists and pedestrians through education, advocacy, legislation, and encouragement. We support biking and walking for health, transportation and recreation. For more information:
bikemaine.org
.
About the Maine Public Broadcasting Network:
The
Maine Public Broadcasting Network
is Maine's premier, independent media resource, dedicated to creating exceptional opportunities for the communities it serves to engage with critical issues, compelling stories, and quality entertainment. MPBN is renowned for creating award-winning programs, as well as airing content from PBS, NPR, and other independent producers. Formed in 1992, MPBN is an independently owned and operated nonprofit organization with office and studio locations in Bangor, Lewiston and Portland, Maine.
---
Search